South Pasadena High School
Alumni Association - 1907-2021
In Memory
Roger W Mortensen - Class Of 1958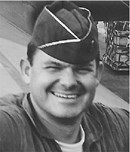 Roger Woodrow Mortensen, 77, of Lacey, Washington died July 21, 2017 from heart failure in Olympia, Washington. Roger was born in Alhambra, California on May 30, 1940 to Woodrow and Margaret Mortensen. He grew up in southern California, graduating from South Pasadena High School in 1958.
Roger enlisted in the US Air Force in July 1958, and retired a Lieutenant Colonel in August 1989. He was a graduate of the Air Force Academy, Class of 1965. He served as a C-130 navigator in Vietnam between September 1967 and February 1969. His last assignment before retiring was as Chief, Command and Control Division, 86th Tactical Fighter Wing, Ramstein AB, Germany. His decorations include: two Distinguished Flying Crosses, five Air Medals, four Meritorious Service Medals, and one Air Force Commendation Medal. He was also awarded the Navy Presidential Unit Citation for missions flown in support of the siege at Khe Sanh, Republic of Vietnam in 1968.
Roger earned an MBA in 1976, graduated from Air Command and Staff College in 1977, and a Bachelor of Arts in History in 2000. He was a diligent public servant, working for DSHS, Division of Child Support until he retired in 2008. Roger is survived by his son, Peter (Michelle); two grandchildren; and sister, Judith (SPHS '59).
The Olympian, July 30, 2017
*********************************************
Roger and I met in 1951: attended the 6th grade together at Lincoln School in South Pasadena, lived around the corner from one another for a while, were Cub Scouts and Boy Scouts together, and attended South Pasadena Junior High and High School. In our 6th grade picture, 1951, that's Roger (far left, second row from the top) and me (Jon Katze, fifth from the left, third row from the top). Many of those beautiful young people also were members of the South Pas Class of '58. Too many are no longer with us.
Both Roger and I had crushes on our teacher, Miss Smith (far right second row from the top); over the decades, every time we'd see one another, we'd argue over which of us she liked best. Roger was a favorite of my parents, who called him Mort; he continued to visit them, when he was in the Los Angeles area, throughout their lives. In the last couple of decades he met and charmed my wife, Kat.
Roger was a hero, a sweet man, and a good friend. We miss him.
Jon Katze '57