South Pasadena High School
Alumni Association - Classes of 1907-2020
In Memory
Richard Glenn - Class Of 1962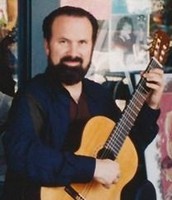 After a three year battle with ALS, Richard passed away peacefully in his home on December 18, 2011. Richard B. Glenn, the son of William and Sara Glenn, was born in Los Angeles on January 19, 1945, and grew up in South Pasadena.
Richard received BM and MM degrees in music from the University of Redlands, and then served in the Navy for four years. After his honorable discharge, he moved to Basel, Switzerland, to study the lute at the Scuola Cantorum Basiliensis. In Switzerland he met Rita, his wife of 36 years. Richard and Rita raised three children, Mark, Monica, and Michael. He became a proud grandfather in 2008 when Christopher was born.
Richard was known for his great love of music. He taught classical guitar and lute at UC Irvine, UC Riverside, and Orange Coast College. He specialized in teaching and performing on Renaissance and Baroque instruments (guitar, lute, recorder, and viola da gamba) for many years. He performed regularly with the early music group Harmonia Baroque players. Richard also loved to perform magic tricks and gave magic shows for children's birthdays for more than 25 years. He loved making people laugh with knock-knock jokes and his silly sense of humor. He liked animals and spoiled his dogs, cats, and bunnies, the last of which often appeared in his magic shows.
Richard was a warm and generous husband, father, and grandfather. He is greatly missed.
The Orange County Register, March 4, 2012