South Pasadena High School
Alumni Association - Classes of 1907-2020
In Memory
Wendy E Whitford (McLaughlin) - Class Of 1957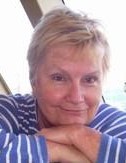 Wendy Whitford McLaughlin - mother, grandmother, teacher, partner, aunt, dear friend, and so much more - shared her gifts with the world with a rare and genuine generosity that could not help but touch the hearts of all who knew her. Her life was a testament to building community and strengthening the bonds that hold people together. Born in Saratoga Springs, New York on April 29, 1939, Wendy passed away peacefully at home in Manhattan Beach on February 3, 2020 at 80 years of age.
Having lost her high school sweetheart Joseph McLaughlin (SPHS '57) to cancer in 1996, she is survived by their four children: Jennifer (Dennis) Shafer, Joseph (Joanne) McLaughlin, Amy McLaughlin (SPHS '86) and Mark Levine, and Molly (Chris) Perry (SPHS '91); and nine grandchildren.
In her professional life as an educator, Wendy taught in many elementary schools including Holy Family Catholic School. She became principal at American Martyrs School from 1989 - 2004. Under Wendy's leadership, AMS transformed into the outstanding and much desired school it is today and an integral part of the parish community. Her wisdom and leadership were invaluable to the school and parish. She came out of retirement to be Interim Principal at St Jerome's Catholic School. Wendy also worked for the Archdiocese of Los Angeles in various education-related capacities for a number of years.
In the last few years of her life, Wendy reconnected with family friend Michael Lamers (SPHS '57) and together they had many happy adventures zip lining, skiing, horseback riding and cherishing each other.
She will be missed by all who knew her but especially her children and their families, the Lamers family, and all her nieces, nephews, and family members.
Holy Cross Mortuary, February 2020