South Pasadena High School
Alumni Association - 1907-2020
In Memory
Carolyn Dawson (Grow) - Class Of 1957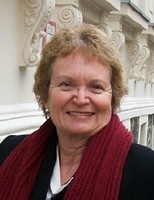 Carolyn Marie Grow, was born February 7, 1940 in Pasadena, California. She moved to Granstville, Utah in 1999 and truly loved the town and the friends she made there. She passed away peacefully on March 28, 2014.
Carolyn loved to share her talents in art, theater, music, cooking, and gardening. She earned a Masters degree in Marine Biology and conducted research work in that field for many years.
She is survived by her ten children, two brothers; Ken Dawson '59 and John Dawson '61; and her mother.