South Pasadena High School
Alumni Association - 1907-2020
In Memory
Richard Elliott - Class Of 1965 VIEW PROFILE
Richard Elliott
March 20, 1947 - August 18, 2014
****************************************************************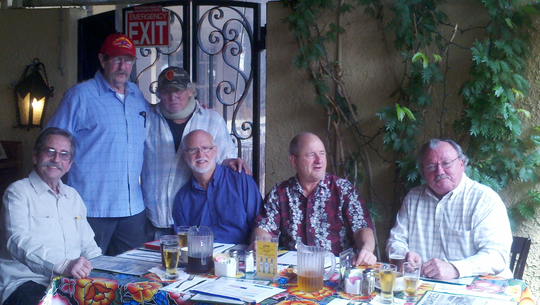 Lunch with Rich in early 2013
Mike VanCott '65, Bobby Vaughn '65, Rich Elliott '65, Dave Prince '65, Scott Truscott '66, Russ Colburn '65 (and me taking the photo)
Sad news, our classmate and one of my closest friends, Rich Elliott, has passed away. Richie fought many battles during his years but this latest episode finally beat him over the last six months. Bobby, Dave, and I got to repeat the lunch in July 2014 and even though Rich was hurting, he made it through two plus hours of memories.
Pete Klein '65
***************************************************************************************
Richard Gene Elliott, known as Ricky to his friends and family, was born in Des Moines, Iowa on March 20, 1947. In August 1955, after many years of snow and ice, his family bought a school bus, painted it pink and black, which were the popular colors in the 50s, and headed to California. His father built a rack on the top so that everything we owned would fit, including a player piano. Richard's family had no idea about where in California they wanted to live. A friend in Pasadena suggested they buy there, in Pasadena. Within one week, Rick's parents bought a home in South Pasadena, the three kids were registered in school, and Rick's father had a job. Their new home was located close to Marengo Elementary, South Pasadena Junior High and South Pasadena High School.
In 1965, Richard graduated from South Pasadena High School. He then attended Long Beach State for one year. Then he decided to enlist in the army as a helicopter pilot. After going through basic training, he became a helicopter mechanic instead. As a mechanic, one of his responsibilities was as a gunner. This was during the Vietnam War. We were very lucky to have him come home healthy.
Richard took some time off and backpacked through Europe with his friend, Dave Prince '65. When he returned home, he was ready to settle down and he went to Santa Barbara to study Marine Biology. Unfortunately, he discovered that he was claustrophobic. He then went to Humboldt County and attended the College of the Redwoods with several of his friends from South Pasadena. At this time he bought property with two of his friends, Dave and Steve. He fell in love with his land and built a beautiful, rustic cabin, with running water and a tower to overlook his domain.
In 1980, Richard's parent's home in Bradbury burned to the ground with 80 other homes in the area. Richard, his father, and Richard's good friend, Scott Truscott '66, rebuilt the home. He then spent many enjoyable years at his cabin.
In June 2009, Richard sustained a broken neck which was repaired at the Veterans Hospital and he spent his recovery in the home he helped build for his parents. After returning home to his cabin, he was never well again and discovered he had multiple myeloma. He spent from November 2011 until January 2012 in the Veterans Hospital in Long Beach. They gave him only two to four weeks to live. Through loving care from his family, Richard lived for almost 2 1/2 years longer than expected.
Richard passed away on August 18, 2014 in his family's home in Bradbury, California. He is survived by his parents, Russell and Betty Elliott and his sisters, Sandra Elliott '60 and Michele Elliott Shelton '69.
Contributed by Sandra Elliott '60
Click here to see Richard's last Profile entry.