South Pasadena High School
Alumni Association - Classes of 1907-2020
In Memory
Maral Ann Adams (Wingo) - Class Of 1957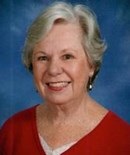 Maral Ann Adams Wingo (August 1, 1939 - August 18, 2016) beloved mom, nana, and friend, long term resident of Moraga and then Walnut Creek. She was a nature lover who gloried in the outdoors, particularly mountains and beaches. Maral's infectious smile and joyful personality lit up the room she was in and endeared her to all. Maral was born in Huntington Park, California, the only child of Albert and Margaret Adams, and graduated from South Pasadena High in 1957. She attended UC Berkeley and Sacramento State, receiving her degree in Child Development in 1961. While at Cal, she was a member of Gamma Phi Beta and met Cliff Wingo, whom she married after graduation. The Wingo's lived the majority of their lives in Moraga where they raised their two children, Kristi and Brett. The Wingo family loved the outdoors and gathered with friends for many ski and summer vacations at Tahoe and Donner Lake. Their vacations were filled with adventure, laughter and lasting memories. Maral and Cliff enjoyed many camping and backpacking trips, and traveled the world together. They were happily married for 46 years until Cliff passed away from ALS in 2007.
Maral cherished her many dear friends, including the 'Mountain Mamas,' who enjoyed backpacking and the outdoors together for nearly 40 years. She treasured the 'lunch bunch' and other deep friendships such as the Lafayette Orinda Presbyterian Church (LOPC) Schooners group. A consummate helper of others, she volunteered at LOPC as a deacon, taught in the church school, served as chairman of Mt Herman retreats, and was a Marriage Enrichment Training coordinator. She was a volunteer with Junior League, Children's Hospital and Hospice of the East Bay, and was an active volunteer in her children's classrooms. Maral taught elementary school for many years in both Sacramento and the Lafayette/Moraga area. After teaching, she became a surgical dental assistant for 18 years and in both careers she valued her interaction and relationships with children, parents, and patients.
Maral met Dirk Mellema in a support group after both of their spouses had passed away. Maral and Dirk discovered many mutual loves, such as Donner Lake and travel, and they enjoyed a special relationship living together and traveling the world for the last eight years. They built an amazing loving relationship, moved into a home together in Rossmoor; enjoyed happy family gatherings and time together rooting on the Giants and Warriors. Dirk is a special part of the family and was a true rock for Maral through the last months of her life. Maral fought a year-long battle with cancer and is survived by her daughter, Kristi Corley and her husband, Chuck of Portola Valley; and her son, Brett Wingo and his wife, Cathy of San Jose. She adored her five grandchildren and Dirk Mellema and his family. She is also survived by many relatives. Maral was a loving mother and nana to her family, who loved her dearly.
San Jose Mercury News, August 26, 2016