South Pasadena High School
Alumni Association - 1907-2021
In Memory
Russell Doughten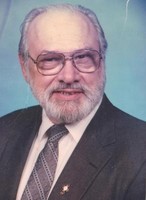 Russell Doughten of Carlisle, Iowa, died at his home August 19, 2013. He was born February 2, 1927 to Russell S Doughten, Sr and Dorothy Woods Doughten. He was the third of eight children, having six sisters and one younger brother.
Russell graduated from Chester, Iowa High School in 1945 and served in the US Navy from 1945 to 1946 (17 months). He attended Drake University majoring in Drama, graduating in 1949. He taught English at Williamsburg High School until 1951 and went on to get his master's at the Yale Drama School in 1954, majoring in directing. Additional education included classes at Faith Baptist Bible College and film making classes from USC.
Russ met his wife, Gertrude Sprague at Drake University and they were married in 1950. In 1954 he went to work at Good News Productions, a Christian film company, in Chester Springs, Pennsylvania. While there, his three sons were born and he produced and directed many TV shows and movies, including The Children's Gospel Hour and some for evangelist Henry Geiger. His work continued there until 1958 and included him being the producer for Steve McQueen's first film "The Blob". In 1958 he moved his family to Monterey Park, California where he taught English, Speech, and Drama at South Pasadena High School until 1964.
With a desire to produce feature length dramatic films, he went to Iowa in 1964 and raised money to create a new film production company called Heartland Productions. This new company produced "The Hostage" and "Fever Heat" and went on to manage a number of theaters in Iowa. In 1972, Russ formed a new company, Mark IV Pictures with Donald Thompson, that wrote and produced the end of times evangelistic Christian film "A Thief in the Night" in 1973. Through Heartland Productions and Mark IV Pictures, Russell went on to be involved with writing, producing, and directing 18 more evangelistic Christian films.
Russ founded a non-profit company, Mustard Seed International, to create translations of the Christian films so that they could be used by missionaries around the world. He also helped form the Christian Film Distributors Association and was instrumental in the formation of the Christian Film Producers Association. He participated in the National Religious Broadcasters Association for many decades and created and presented an annual award for Outstanding Evangelistic Film Maker.
Russell is survived by his wife Gertrude, three sons, Paul (Darlene) Doughten of West Melbourne, Florida, Joel (Ching) Doughten of Riverside, California, and Tim Doughten of Spring, Texas; four grandchildren and five great-grandchildren. He was preceded in death by his sister, Charlotte Jacobs and is survived by six siblings, Peggy Rachford in West Covina, California, Carol Schell in Merced, California, Marjorie Sheets in West Des Moines, Iowa, Elaine Wolfe in Spring Valley, Minnesota, Gretchen Craft in Asheville, North Carolina, and John Doughten in Garden Grove, California.
Des Moines Register, August 22, 2013