South Pasadena High School
Alumni Association - 1907-2021
In Memory
Jack Swartzbaugh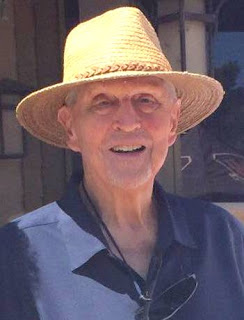 Jack Swartzbaugh
August 2, 1933 - January 2016
Faculty member of the Physical Education Department at SPHS from 1958 to 1961
*********************************************
My husband Jack Amon Swartzbaugh graduated in 1951 from Burbank High School. He was an outstanding basketball player. He had a career in education starting at South Pasadena High School 1958 - 1961, Burbank High School 1961 - 1965, Corona Del Mar High School 1965 - 1967, and Rio Hondo College 1967 - 1968. In 1968 he was one of the first hired to open Saddleback College in Mission Viejo. He started out as Coordinator of Activities and in two years became Dean of Students. He had a long and rewarding career at Saddleback and retired in 1999. He did part-time counseling for 13 years after retirement. Loved Saddleback College and just couldn't leave.
Jack and I had four children and 12 grandchildren. At his passing we had one great-grandson and last September our first great-granddaughter was born. Family was everything to Jack. Just like his father, Amon Swartzbaugh who taught at John Muir Junior High from 1941 - 1969, he loved coaching and teaching. I miss him so much.
Mary Joan Brown Swartzbaugh
************************************************************************************
I was on the basketball team in 1960-61 and also played JC baseball before turning to track and field. Coach was very supportive of all his players. I have some great memories of games of course, like when Dave Moore hit Clark Canfield with a perfect pass for a last second shot to beat San Marino.
But my favorite memory of Coach came when my 12 year old daughter and I happened to see him at South Coast Plaza. He made me sound like one of the greatest players he had ever coached, winking at me as he spun the somewhat true tail of a long ago game. From that magic time I began to think of myself as 2nd team All City.* Coach also once wrote how proud he was of our track success at Corona Del Mar after an article in the Daily Pilot praised our 100th win and 9th conference title. He was a motivator and a loyal supporter of his players and students.
*Since there's only one high school in South Pasadena this is true. RIP Coach, it was so good to know you.
Jim Tomlin '61
https://www.saddlebackcollegegiving.org/pages/jack-swartzbaugh-history-of-saddleback-college-project-appeal
https://www.saddleback.edu/college-history/jack-swartzbaugh