South Pasadena High School
Alumni Association - 1907-2021
In Memory
Forest M Fouts VIEW PROFILE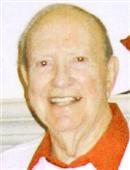 Forest Fouts passed away peacefully June 6, 2013 with family present. He was an exemplary and beloved husband, father, grandfather, and great-grandfather. Born June 3, 1922 in Keighly, Kansas, the family moved to El Dorado, Kansas where he was raised and met his wonderful wife Gloria. They celebrated their 69th anniversary this past May. He served in the Air Force during World War II where he received many combat awards including the Silver Star, Purple Heart, and four air medals.
Following his World War II service, Dr. Fouts received his college degree from Wichita State, his Masters degree from Stanford, and his Ph.D. from the University of Southern California. Dr. Fouts served in public education for 65 years as a teacher, administrator, and superintendent. He will be deeply missed by his wife, two daughters, grandchildren and great-grandchild. He was loved by all who knew him. He was light-hearted, having kind words for everyone, and entertaining them with funny life stories and jokes.
U-T San Diego, June 11, 2013
**************************************
Dr. Fouts served as Vice Principal at SPHS from 1953 to 1958; Assistant Superintendent of South Pasadena Schools from 1961 to 1967; and Superintendent of South Pasadena Schools from 1967 to 1978.
Click here to see Forest M's last Profile entry.