South Pasadena High School
Alumni Association - 1907-2021
In Memory
Orville Raberding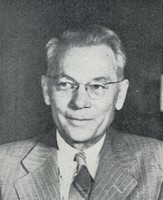 Orville Raberding
June 21, 1901 - May 19, 1953
Mr. Raberding taught Mechanical Drawing at SPHS from 1945 to 1953
************
Orville R Raberding, 51, a Clyde (Ohio) high school industrial arts instructor and coach of athletics there for between eight and 10 years, leaving in 1935, was found dead the afternoon of May 19, 1953 in his automobile in Azusa, California. Cause of death has not been learned.
Mr Raberding, widely known in Sandusky County, was driving home from South Pasadena (California) high school, where he had been teaching but what happened to cause his death was not known.
Mr Raberding left Clyde to accept a teaching position in Middletown, Ohio, then left for the west coast where he had been several years.
Native of New Knoxville, Ohio, he married Sylvia Vickery of Castalia in 1915. She survives with an adopted son, Floyd, and two brothers, Cliff and Omar Raberding of New Knoxville. Mr Raberding was active in Masonic circles.
The News-Messenger (Fremont, Ohio), May 20, 1953
*******************************************************
William 'Bill' Meals '54
Mr. Raberding taught Mechanical Drawing. I had several classes under his instruction. In 1953 he went home and killed himself. No one knew why but for several weeks before he committed this act he was giving everyone A+ grades for even some pretty sloppy drawings and we couldn't figure that out either. He was a gentle man, a very nice person and we all regretted that he was dealing with some demon that got the best of him.
Mr. Raberding had a hearing problem and wore one of the hearing aids that you kept in a shirt pocket and it had a big long wire than ran to the speaker in his ear. The volume control was on the part that stayed in the shirt pocket. Every so often we'd talk to him but only mouth the words. He'd turn that hearing aid up and then we'd say the same thing in loud voice. He'd grab his ear and scramble to set the volume back down. We talked about what we did after his death and wondered if we had contributed to his problems. Everyone liked him.
************