South Pasadena High School
Alumni Association - 1907-2021
In Memory
Estelle A. Leach (Upjohn)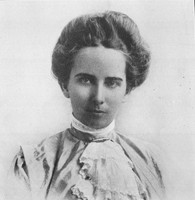 Mrs. Estelle Leach Upjohn, longtime Pasadena and South Pasadena resident died March 2, 1963 in Carmel, California. Born in New York, November 11, 1876, Mrs. Upjohn was 86 at the time of her death.
As Miss Leach, she taught English and French at the South Pasadena High School from 1907 - 1913 when she left to marry. The 1913 Copa de Oro was dedicated to Estelle Leach.
Mrs. Upjohn is survived by her husband Hubert S. Upjohn, a former principal at South Pasadena High School and Los Angeles County Superintendent of Schools; her sister Mrs. F.M. Seamans of Pasadena; a stepdaughter, Janet Upjohn McKelvey of Carmel; stepson Richard Upjohn of Carmel; nephew Clarence Seamans of Pasadena; five grandchildren; and four great-grandchildren.