South Pasadena High School
Alumni Association - 1907-2021
In Memory
Hannah Dyste Gruhn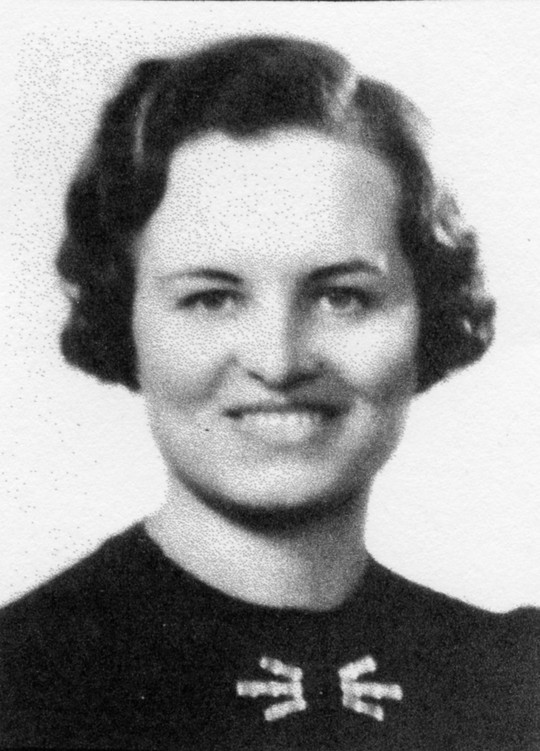 Mrs Gruhn taught biology and mathematics at SPHS from 1941 to 1943. She is the mother of Hannah '61, Diana '62, and Carl '64.
Hannah Dyste Gruhn was born September 25, 1902, in Forman, North Dakota. She was the youngest of nine children born to Nils Dyste, the owner of a general goods store still operated by the family, and his wife Hannah Narum, both of whom had emigrated from Toten, Norway, in the early 1880s.
She attended St. Olaf College in Northfield, Minnesota, where she played guard on the girls' basketball team and graduated with a degree in physical education. She taught high school mathematics and biology in Pierre and Aberdeen, South Dakota, where in 1931 she met her future husband Carl Vahlsing Gruhn, also a teacher in the science department.
She moved to South Pasadena in 1939 and received her Master's Degree in Education from the University of Southern California in 1941. She married Carl in the same year. In 1943 (when she was 41) their first child, Hannah Louisa, was born, followed by Diana Elizabeth in 1944 and Carl Dyste in 1946.
She taught for 31 years, including appointments at South Pasadena High School, Anoakia School in Arcadia, and Westridge School for Girls in Pasadena. In addition, she served as Dean of Girls, science department head, and counselor.
She was a lifelong member of the Evangelical Lutheran Church of Forman, North Dakota, and attended First Baptist Church of Pasadena for over 50 years. She was several times elected President of the South Pasadena PTA, a Girl Scout leader for many years, and longtime member of PEO, which she attended the week before her death.
She died on March 6, 1993, at Huntington Memorial Hospital in Pasadena of complications following a broken hip. She is survived by her husband, Carl V; two daughters, Hannah Gruhn-Bengtson (Vern) of South Pasadena and Diana Guthery (George) of Glendora; a son, Carl D Gruhn (Marty) of Mesa, Arizona; six grandchildren (Kenna Gruhn, Erin Towle, Jenni and Mindi Guthery, Julie and Kristina Bengtson); her older sister, Agnes Bjonerud of Aberdeen, South Dakota; and a host of nieces, nephews, and other family members.
A memorial scholarship in her name is being established for women undergraduate students in education at St. Olaf College.
She and Carl moved to Atherton Baptist Homes in 1977, and have enjoyed the fellowship and caring of the Atherton community for over 15 years. She leaves behind some of her closest friends at Atherton; her family has felt their love and support so much over the past difficult year.