South Pasadena High School
Alumni Association - 1907-2021
In Memory
Gordon Teaby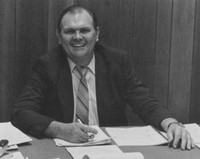 Gordon H Teaby, an educator who spent 23 years as a teacher, coach, and administrator in the Grossmont Union High School District, died September 21, 1989, at Grossmont Hospital after a brief illness. He was 57. Born August 6, 1932 in Encinitas, California, he graduated from San Diego State University in 1958 and began his career that same year at Holtville High School. Two years later, he moved to Granite Hills High School.
Gordon held various positions at different schools in the Grossmont district until 1983, when he was named principal at South Pasadena High School. He served as principal at SPHS for three years, until 1986. At the time of his death, he was superintendent of the Trona Unified School District. He was active in the Kiwanis Club. He was engaged to marry Margaret Stinson of Garden Grove. He was married previously to Clara White of El Cajon.
Survivors include two daughters, Nora Baker of Eugene, Oregon, and Cindy Jensen of Redway, California; a son, Brad Teaby of Oceano, California; a brother, Marvin Teaby of Oceano; a sister, Carole Weigel of British Columbia; and his father, Oscar Teaby of Oceano.
San Diego Union, September 29, 1989