South Pasadena High School
Alumni Association - 1907-2021
In Memory
Hubert S Upjohn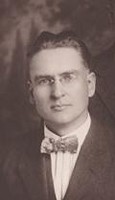 Ex-County School Head Dies at 84
Hubert Standard Upjohn, for many years a resident of South Pasadena and former Los Angeles County School Superintendent, died March 19, 1965, in Carmel, California where he had resided since 1943. His wife, Estelle Leach Upjohn, died two years ago.
Mr. Upjohn is survived by a daughter, Mrs. Paul McKelvey and a son, Richard Upjohn, both of Carmel; two brothers, Dr. Lawrence Upjohn of Kalamazoo, Michigan and Carl Upjohn of Ramona, California; five grandchildren and four great-grandchildren.
Mr. Upjohn, once principal of South Pasadena High School, was born in Kalamazoo on January 4, 1881.
Pasadena Star-News, March 23, 1965