South Pasadena High School
Alumni Association - 1907-2021
In Memory
Peter Bruss - Class Of 1966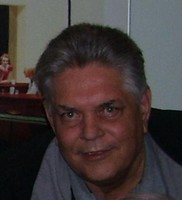 Peter Raymond Bruss was born November 9, 1947 in Milwaukee, Wisconsin. He moved to South Pas in 1959 and started sixth grade at Lincoln Elementary and stayed through ninth grade at the SPJHS. Pete lived in the duplex on the corner of Pasadena Avenue and El Centro Street, near my childhood home on El Centro. He was really cute, had kind of a bad boy image and was friends with Brock Currey '66, Jack Biesek '65, Scott Truscott '66, amongst others. After the ninth grade he moved with his aunt and uncle (his adoptive parents) who had raised him, to San Gabriel, California. He lived in San Gabriel until his stroke in May 2010.
Even after Pete moved away, he remained in touch with his South Pas friends; Colleen Grace '69, Jack Biesek '65, Norman Mintzer '65, Scott Truscott '66, and Tim Bullock '65. After his stroke I would invite and include Peter in my dinner parties, birthdays, and holiday family gatherings. I was glad to have some current times to visit with him. He never fully recovered from the stroke and passed away on May 18, 2012 in El Monte, California.
Tina Biesek DeBow '72
My memory of our friend Pete was his rebel/good guy personality. He came to South Pas while in the 6th grade. Hockey player from Milwaukee? We talked about his respect for our parents and siblings as we grew up. Flaunting the "establishment" and stickin' up for the underdog. Coming to the aid of his friends, and dealing with the "bad guys" for us. Not one to back down, or to cause trouble for those who wouldn't be able to handle it. He was also a deeper thinker than most people knew, he actually had a sort of shyness in him, I think. I thought it was sad that his birth mother didn't want him, so his aunt took him in and raised him. Great woman, she really loved Peter, and she welcomed me and others to her house. Pete treated her very kindly, but again, didn't put up with his "stepdad's" sternness. Gave that stepdad more than one black-eye. We were very close friends through junior high and a portion of high school. He tried his hand at surfing with me, but didn't like the salt water, so he gave me his brand new board he had bought. I believe we had a special sort of connection and friendship, especially in our younger years.
Scott Truscott '66
Peter Bruss was a neighborhood friend that I kept in touch with over a 40-year period. He was an independent thinker, strong-willed, and a sensitive person who would be there for you when you needed a boost or a second opinion. He will be missed by his circle of friends and we will remember his bright smile and sense of humor.
Jack Biesek '65