South Pasadena High School
Alumni Association - Classes of 1907-2020
In Memory
Bryan Gardner Smith - Class Of 1938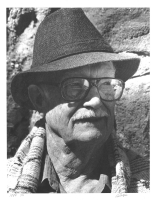 Bryan passed away July 2, 2012, surrounded by family and friends. Bryan was born in St. Petersburg, Florida on November 2, 1919 and moved to California when he was 10 years old. He attended South Pasadena High School and later Piedmont High where he excelled in drama and sports. The Piedmont Mother's Club gave Bryan a scholarship to an elite art school, Rudolph Schaeffer's School of Design in San Francisco. His classes in graphic design and pre-engineering secured Bryan a job at Douglas Aircraft in the Production Illustration Department.
In 1944, during World War II, Bryan enlisted in the Marine Corps and served in Northern China. He stayed there for several years after completing his enlistment. He returned to Douglas Aircraft in Tucson, Arizona, and was made Supervisor of Publications, directing 200 people producing military books, manuals, and bulletins. Bryan became Director of the Tucson Training School, where training classes were held for ICBM missiles, teaching USAF and RAF personnel. Bryan retired from Douglas Aircraft at the age of 43 and enrolled at University of California, Berkeley to secure his secondary school teaching credential in Art and Speech. He taught art in the Piedmont, California schools for 18 years. After completing his advanced work at UC Berkeley, Bryan received a Master of Fine Arts degree.
Bryan was active as a scout leader in the Boy Scouts. For eight years in a row, he took students to Europe in the summer. He called 1970 to 1998 his "travel years," where he visited over 100 countries. Retired since 1982, Bryan moved to the Grass Valley area where he worked full time as a watercolor artist. He exhibited his work in the Sierra Foothills, the Bay Area, and nationally. His awards include the Grumbacher Award for Distinguished Color and merit awards in several national competitions. He remained active in promoting the careers of young artists, donating time at local schools and offering small classes. His body of work includes over 400 paintings. Bryan charmed all who knew him with his art and his humor. He was a gentleman of the first order and thrived on positive thinking. He will be greatly missed by those who knew him and loved him.
Inside Bay Area, July 10, 2012