South Pasadena High School
Alumni Association - 1907-2021
In Memory
Burt O Kinney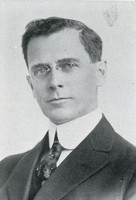 Burt O Kinney
June 4, 1872 - October 24, 1924
Mr Kinney was Principal of SPHS from 1916 to 1920 and also taught American History and Economics. He was the father of Paul Kinney '17 and Frances Kinney Miller '21.
******************************************
B.O. Kinney Killed in Crash - Former Reserve Man Victim of Auto Accident
Cleveland friends received word yesterday of the death of Burt O Kinney, a member of the 1897 class of Adelbert College, Western Reserve University, who was killed in an automobile accident last month in California.
Mr Kinney attended Adelbert for three years but took his degree at Leland Stanford University, Palo Alto, California. For several years he was a principal in the Los Angeles area schools, entering business with his father and brother in Los Angeles two years ago. He was a member of Delta Upsilon fraternity and an active YMCA worker.
Plain Dealer, Cleveland, Ohio, November 9, 1924