South Pasadena High School
Alumni Association - 1907-2023
In Memory
Nathan Dow 'Nate' Benedict - Class Of 1940 VIEW PROFILE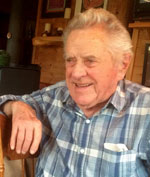 Nathan Dow Benedict (April 2, 1922 - March 29, 2017) born in Lancaster, California to Edgar and Bertha Benedict. He had one brother Edgar Jr, (SPHS '34). The family moved to the Los Angeles area in 1923 and finally settled in South Pasadena in 1930 where he spent most of his youth. There he attended grammar school, junior high, and one year of high school. He then attended New Mexico Military Institute in Roswell for two years and finally graduated from University High School in Pasadena in 1940. He attended Pomona College for one semester, then tempted by all the war jobs left to train for and become a machinist and subsequently a tool and die maker.
He married Mary Catherine Sharples (SPHS '40) in 1941. They produced three children, Antoinette, Nathan Jr, and Philip. He went into the Navy in 1944 and served in the Atlantic, Pacific, and the China-Burma-India theaters. After his first marriage ended in 1950, he was called back into the Navy for the Korean conflict. His final discharge was in 1956.
Nate married Helen Griffin in 1951 after moving to the San Francisco area. Helen had two children from a previous marriage, Carol and Michael, who Nate subsequently adopted. Later in the 1950s, he and Helen produced two more children, Scott and Elizabeth. He went to work in the shops of the Institute of Engineering for the University of California at Berkeley. In 1955 he was transferred to the Lawrence Radiation Laboratory in Livermore. He was a very quick study and a very motivated individual. He went into the lab in 1955 as a Mechanical Technician and was sent over to Berkeley halfway through his career to take and pass the engineering exam (with no classroom time). Almost his entire career at the lab was spent in the Weapons Engineering division. He was active in the engineering portion of weapons design, participating in many nuclear tests, both in the Pacific and in Nevada. He was a prime responder to nuclear accidents wherever they occurred. He retired in 1976 with the title of Nuclear Weapons Design Engineer.
Nate was involved in many activities that he loved: flying sailplanes, power planes, the desert, camping, Baja California, Ham radio, music, bird hunting, and sport fishing. He was an avid reader, historian, gardener, crossword puzzle wizard, sailor, writer, Scrabble player, photographer, and sharpshooter. He and Helen moved to Friday Harbor, Washington in 1976, built a home and purchased a converted Canadian commercial fish boat, the 'Liz B' in which he cruised the waters of British Columbia and Puget Sound for 25 years. Too many birthdays made boating a little difficult, so the Liz B was sold and shortly after in 2010, Helen suffered a debilitating stroke. His loving wife of 62 years passed in 2013 shortly after her 95th birthday. Nate moved into his son Scott's guest cabin where he spent his remaining years close to family on the island and still drove himself regularly to church, the post office, Vinney's, Shipyard Cove, etc, right up to the end.
Nate is survived by all seven of his children, 19 grandchildren, 22 great-grandchildren, and many other loving family members.
San Juan Islander, April 5, 2017
Click here to see Nathan Dow 'Nate''s last Profile entry.