South Pasadena High School
Alumni Association - 1907-2021
In Memory
Carl V Gruhn
Carl Gruhn, chemistry and physics teacher at SPHS from 1943 to 1968, passed away in 1996 at the age of 93. He is the father of Hannah '61, Diana '62, and Carl '64.
*************************************************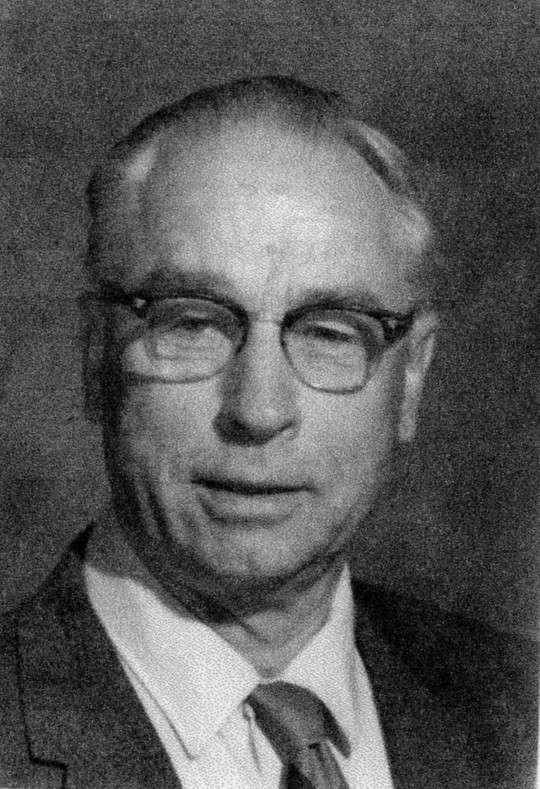 Carl Vahlsing Gruhn was born February 20, 1902, in Jeannette, Pennsylvania. He was the oldest of seven children born to the Reverend Carl Adolf Gruhn, a Baptist minister born in Marienwerder, Germany, in 1870, and his wife Louise Anna Vahlsing Gruhn, born in Buffalo, New York, in 1873, shortly after her parents' emigration from Germany.
Carl grew up in Goodrich, North Dakota, and Madison, South Dakota, where he early demonstrated an aptitude for science and mathematics. He graduated from Northern State Teachers' College in Aberdeen, South Dakota, and then began graduate studies in biochemistry at the University of Minnesota. During this time he taught chemistry and physics at Aberdeen High School in Aberdeen, South Dakota. It was there that he met his future wife Hannah Dyste, who was a teacher in the math department.
He moved to southern California in 1938 and received his Master's Degree in Education from the University of Southern California in 1941. In the same year he married Hannah, who had also journeyed to southern California to complete her Master's Degree from USC. In 1943 (when he was 41) their first child, Hannah Louisa, was born, followed by Diana Elizabeth in 1944 and Carl Dyste in 1946.
Carl taught many generations of students in physics and chemistry at Polytechnic High School in Riverside, South Pasadena High School, and at Flintridge Preparatory School in La Canada. He eventually retired from teaching in 1979 at the age of 76. Many of his students went on to distinguished careers in science, medicine, and the teaching profession. He planned the construction of South Pasadena High's science building in the 1970s. Flintridge Academy's 1979 yearbook was dedicated to him as a tribute to his lifetime dedication to teaching.
For over a half-century he was a member of the First Baptist Church of Pasadena, where he sang tenor in the church choir, was director of the Men's Chorus, and taught Sunday school.
He died on May 25, 1996, at Atherton Baptist Homes in Alhambra, where he and his wife Hannah had resided since 1978. He is survived by two daughters, Hannah Gruhn-Bengtson (Vern) of South Pasadena, and Diana Guthery (George) of Glendora; a son, Carl D. Gruhn (Marty) of Mesa, Arizona; six grandchildren (Kenna Gruhn, Erin Towle, Jenni and Mindi Guthery, Julie and Kristina Bengtson); his brothers William and Earl and sister Lillian Kramer, and a host of nieces, nephews, and other family members.
A memorial scholarship in his name has been established for students in science at South Pasadena High School.