South Pasadena High School
Alumni Association - 1907-2022
In Memory
Catherine Flack (McMillen) - Class Of 1959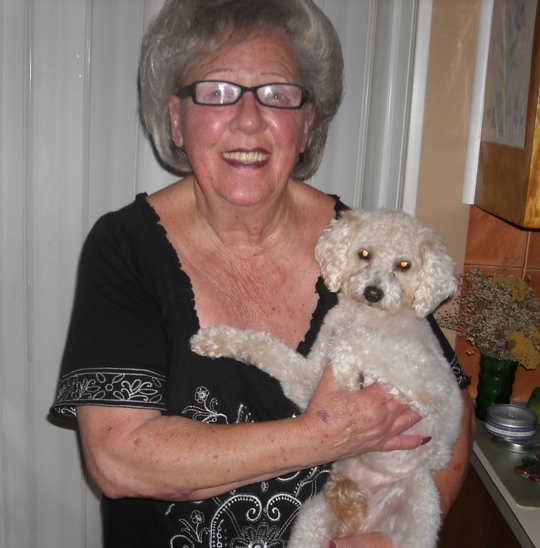 Cathie Flack McMillen
June 9, 1941 - May 21, 2020
Cathie died of cancer at age 78 in Lynnwood, Washington. She is survived by her husband Mike McMillen '58 and sons Mark Booher and Scott Booher, step-son Chris McMillen, sister Barbara Flack Bloomquist '62 and brother-in-law Paul Bloomquist '60.
Cathie had a crush on me way back in high school but I wouldn't take her out because she wore glasses. However, 43 years later at the 2002 Grand Reunion we re-connected, started dating and were married on June 23, 2003.
Mike McMillen '58
**********************************************
Catherine Jane McMillen passed gently into Jesus' presence on May 21, 2020 following a massive stroke. Catherine was born on June 9, 1941 at the Huntington Memorial Hospital, Pasadena, California, to Edwin (SPHS '31) and Jane Sampson Flack (SPHS '36) of South Pasadena.
Catherine (Cathie) grew up in South Pasadena and graduated from South Pasadena High School. She attended Glendale Community College where she received a Dental Assistant Certificate. She worked as a Dental Assistant until her marriage to Wendell Booher in 1963. Cathie and Wendell lived in Temple City. They had two sons, Mark and Scott. They also had two daughters, Vickie and Michelle, from Wendell's previous marriage. Catherine had a varied career of caregiving, housekeeping, waitressing, and ultimately as Supervisor of the Mail Department at Fuller Theological Seminary in Pasadena. She acquired a vast number of beloved friends throughout those years - she was a faithful friend and prayer warrior.
In 2003 Cathie married Michael McMillen (SPHS '58), a former classmate from South Pasadena High School. They have lived in Lynnwood, Washington since then. Catherine had a 'FANTASTIC' life (her words). She loved her family and friends , unconditionally, and will be greatly missed by them all, especially: husband, Mike McMillen; son Mark Booher; son and daughter-in-law Scott Booher and Robyn Sanford; step-son Chris and daughter-in-law Ashley McMillen and grandchildren Kingston and Brielle McMillen; step-daughter, Michelle Booher Laing; sister and brother-in-law Barbara (SPHS '62) and Paul Bloomquist (SPHS '60) and nephews Todd Bloomquist and Thomas Bloomquist and families, and nieces Tami Ferguson and Tracy Clark and families; and cousins, Larry Asquith (SPHS '57), Mitch Denning (SPHS '59), and Wendy Dougall Gute (SPHS '74) and families.
Pasadena Star-News, June 14, 2020
***************************************************
My mom (Catherine Jane Flack McMillen) was a wonderful and kind person, one of which I will miss everyday going forward. Not only was she my mom, but she was my friend, never giving up on me, and supporting me when others stopped. I believe in my heart, that she got these values early in life, such as the days in high school. I feel because of you South Pasadena Tigers, before and after her class of '59, that she became such a fantastic human being to all she came in contact with. She spoke of all of you Tigers often, always smiling when telling stories of her past, and the friends she still holds near her heart today; simply put, her time and love of SPHS brought her happiness during her final days here on earth, and for that, I thank each and every one of you alum for that blessing. You all make such a big difference in people's lives, just in case you didn't now. Go Tigers!!
Mark Booher, Cathie's son