South Pasadena High School
Alumni Association - 1907-2021
In Memory
Franklin J. Thompson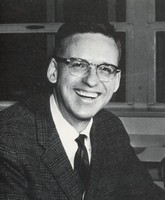 Franklin James 'Jim' Thompson, PhD, 89, died July 5, 2013 in Sahuarita, Arizona. Jim was born in Dayton, Washington on May 7, 1924, to Frank and Lillian (Frick) Thompson. He attended Whitman College in Walla Walla, Washington (BA '48, MA '49). He received his PhD from the University of Minnesota in 1960.
Jim served during World War II in the Army in Germany and after the war. He began his teaching career as a high school social studies teacher in Portland, Oregon. He was the principal of University of Minnesota University High School as he worked on his doctorate, as well as serving as a professor at the University of Minnesota. He spent the majority of his career as the Principal of South Pasadena High School in South Pasadena, California.
Upon retiring and moving to Arizona, he was active in the establishment of the Good Shepherd Church of Christ in Sahuarita, serving as its first moderator. He was also active in the Green Valley Interfaith Council serving as its president. He was president of the Green Valley Friends of the Pima County Library for more than a decade. He also served as a Court-Appointed Special Advocate (CASA).
He is preceded in death by his parents; a daughter, Martha Thompson; and a great-grandson, Kaden Book. He is survived by his wife of 54 years, Helen Gould Thompson (born in Fairmont, Minnesota); his children, Ann and husband Ronald Karas of The Woodlands, Texas; Barbara (SPHS '77) and husband William Book of Floyds Knobs, Indiana; James Robert 'Bob' Thompson of Tucson, Arizona; seven grandchildren; seven great-grandchildren; and many nieces and nephews, their children and grandchildren, all of whom loved him dearly.
Green Valley News & Sun, July 17, 2013
Dr. Thompson served as Principal of South Pasadena High School from 1962 to 1978