South Pasadena High School
Alumni Association - 1907-2021
In Memory
Mary Ida Phair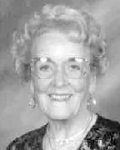 Mary Ida Knight Phair was born in Amarillo, Texas on October 23, 1920. She died from complications of pneumonia on November 9, 2012, at her residence in Regents Point, Irvine, California. Her family was at her bedside.
At age seven, Mary Ida and her family move to Southern California. They settled in South Pasadena where she would spend the next 50 years. During that period she would go through the local school system, marry schoolmate Bob Phair (SPHS '37) in 1941, and help raise Rob (SPHS '63) and Randy (SPHS '67), their two sons. Mary Ida decided to continue her higher education. Her first priority was always family, but she somehow managed to graduate from college (UCLA, CSULA) in 1961 and go on to receive her masters degree from USC Library School. One week later she was hired at her alma mater, South Pasadena High School, and was in that position for the next 20 years. She received many awards and accolades. She seemed to be most proud of organizing the Grand Reunion of 75 years of classes in 1982. Approximately 7,000 alumni came from all over the world and participated in a parade through downtown. The part she seemed to enjoy most was that nobody thought it could be done. It got done and in grand fashion. When she retired they named the library/media center the Mary Ida Phair Media Center. It remains so today.
After retirement, she and Bob moved to Dana Point. She remained active as a docent for the San Juan Capistrano Mission, Dana Point Historical Society, and the Ocean Institute. In 2003 she moved to Regents Point in Irvine. Mary Ida was an inspiration. She accomplished many wonderful things. She volunteered to be a Girl Scout leader when they couldn't find someone, even though she only had two boys. On a lark she decided to coach the high school girl's field hockey team. Her greatest joy was her family, first and foremost. She was a positive and optimistic person. She was generous with her time, her intelligence, and her love. Mary Ida was a born teacher who loved to mentor people: from encouraging her sons every inch of the way; to helping students realize their potential; more recently, to helping employees at Regents Point learn the English language.
Mary Ida was predeceased by husband Bob in 1998, son Randy in 1995; brothers James Knight (SPHS '37) and Luther Knight (SPHS '41); and sister Jeanette Claycamp (SPHS '43). She is survived by her son Rob; daughter-in-law Randa; three grandchildren, Rory, Luke, and Eden; Tim (Rory's husband); and four great-grandchildren, Will, Luke, Jack, and Kate.
Los Angeles Times, November 14, 2012